Fiftieth graduate NVC Chair Packaging Design and Management
01 maart 2013
On Thursday 28 February 2013 Marieke Brouwer graduated as fiftieth student supervised by the NVC Chair Packaging Design and Management. This milestone marks the success of the NVC Chair, established in 2006, and occupied by Professor Roland ten Klooster. After receiving her diploma, NVC gave Marieke a bouquet of flowers and a gift certificate of €500 to emphasize that success. She can use the gift certificate for further development of her knowledge and skills in packaging by following the NVC Course Programme in Packaging I or II.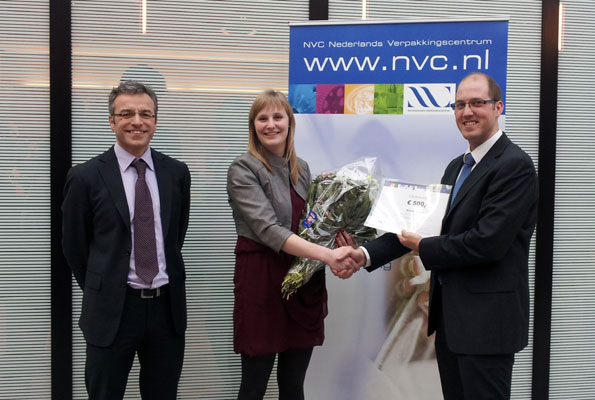 Professor Roland ten Klooster proudly watches while Ger Standhardt, NVC Manager Knowledge Development and Projects, presents Marieke Brouwer with flowers and a gift certificate.
Marieke Brouwer graduated at H.J. Heinz, NVC-member and member of the programme counsel of the NVC Chair, on the subject "The construction of a Technology Roadmap for strategic development, focused on food packaging and products". She has developed a technology roadmap and the accompanying processes in order to enable Heinz to have better control over projects of different levels. The model was tested and completed through a case study in which the possibilities for applying sustainable materials in packaging were explored (Press Release NVC, 1 March 2013).